Matt Davis Custom 1911
A Gun Test by Steve Shields (Wichaka, )
I was doing some research into my family genealogy awhile back, and for those of you who may wonder, I am Irish. Anyway, I was researching my roots, figuring out where I come from, who I am, what has shaped me, other than a few too many meals ... all those important questions of life.
Now you're probably thinking what does this have to do with a pistol test? Well actually plenty. There's a rather large family tree that has shaped the firearms industry; Elmer Keith, Jeff Cooper, Bill Ruger, and others. Then we have such greats in the holster arena; Bruce Nelson, Gordon Davis, and Milt Sparks. What about the famed pistolsmiths with the likes of Swenson and Behlert? Looking over all these names, one has to think ... is the torch being passed down? Are there those out there that have been guided by the best, and are actively taking what they've learned from where they've come, their roots, and yet applying their own individuality? From the well-known pistolsmith name of Richard Heinie, I think there's someone who has.
Enter Matt Davis of MD Custom Machine. Matt is a protégé of Heinie, working under him for 10+ years and learning all he can about the art of pistolsmithing. It was a pleasure to be able meet him, albeit over the phone, to chat with him about his past as well as his future. He has turned to his roots here, and has plunged into the growing world of custom pistolsmithing. Matt sent me, what started out as a Springfield Government 1911, and what you see now is not only what I think is a thing of beauty, but a nicely done fighting pistol. He sent us a pistol that showed off a lot of what he can do for your 1911, so there are a lot of mods done on this one.
I noticed many things right off. First it didn't have a full-length guide rod.
This pistol is a very plain looking 1911, for me anyway. I like the finish very much, as it's not too shiny or dull. It even looks durable. All the edges are lightly melted, but not over done as I have seen on other 1911's. I like the sharpness taken off a gun, but no more. This one is done exactly how I like mine; you can still see the classic 1911 lines.
I'm not a fan of front cocking serrations, but these are very good. They match the serrations found on the rear of most 1911's, and won't shave the inside of your leather holster. One of my production 1911's came with them standard from the factory, and they are excessively sharp. I had some friends practice malfunction drills with this pistol, and they give a good solid grip to get any function done in a hurry, without serrating the fingers. I practiced some malfunction drills for about 30 minutes with this pistol and my fingers were still good to go, with no tenderness felt.
I fit my bushings to .001" clearance… and if you think that's a tight fit, the barrel on this pistol measured 0.5805" at the muzzle, and 0.581" for the bushing. That folks, is a very close tolerance fit! Yet it's fitted so smoothly that the bushing can be removed from the slide without a bushing wrench.
The slide has a very tight fit to the frame, and the barrel lock up is tight as well. Racking the slide was like butter, but felt the gun was a bit over sprung. Matt said he had a 17lb recoil in there, but because of the tightness of the slide and barrel fit, it felt much stronger than 17lbs. I fired the gun using the recoil spring that it was sent with, but installed a 14lb spring after awhile, and the gun really sung after that. More on shooting the gun a bit later.
Trigger pull weight measured a smooth crisp 3 1/4lbs consistently through 5 pulls.
What I first thought I saw was Heinie's handy work. But then I looked deeper, and remembered the conversations we had, I thought no this is Matt Davis' workmanship and design, his individuality coming through.
From the finely detailed checkering and serrations, in which each serration line was cut individually,
There's the extremely well fitted beavertail grip safety, finely squared trigger guard, and lightly melted edges.
To the Heinie Slant pro sights;
Now to 3 of the best things I like about this pistol:
1) That unique magazine funnel. Matt says the frame is cut down so the overall length of the grip is not changed. And is it blended well into the frame.
2) The undercut of the trigger guard where it meets the frame, for a higher hand/grip hold. I've seen a few of these done, but no where near to the detail this one was done.
3) The bevel cut on the lower edge of the slide. I know this may not be a big thing to some, but those who grip with a thumbs forward hold, and lay those thumbs against the slide will really appreciate this modification.
The total modifications to this gun include:
Heinie's Slant Pro Sights
Serrated top of slide
Checkered front strap 30 lpi
Beveled bottom edge of slide
Fit slide to frame
Trigger job of 3 1/4 lbs
Install STI hammer and sear
STI Ti hammer strut
Install ambi-safety
STI long trigger
Open and flair ejection port
Hi cut beavertail grip safety
Heinie Match Grade Barrel & Bushing
Throat and polish barrel
Install Heinie Mag Well
Rounded all sharp corners
Squared and checkered trigger guard
Machined front cocking serrations
All the above mods, put this pistol in the 3,000+ dollar range. Now I know what you're thinking, that's a lot dough. Rightly so, but then again I doubt there's anyone wanting have all the above done to their gun. Remember this 1911 was done to show most of what Matt can do for your gun.
I went through the list of mods with Matt, that I would like for a fighting pistol and cut the cost down considerably. That's the nice part about dealing with Matt, you're talking straight to the guy who's going to work on your gun, not a go between. And he will spend the time to make sure you get what you want, and are satisfied with the end product. This is customer service in its true and pure form.
How it shoots
I put 700+ rounds through this pistol, without a cleaning in between. Besides using the Chip McCormick 8 round magazine supplied with the gun, I also used some stock Colt, Metalform 7- & 10-rounders, Metalform 7-rounders with the Wolff spring update, Wilson 47D's, Metalform magazine bodies with Wilson's 8 round conversions, Wilson's new Elite Combat magazines, Checkmate 7 & 8 round magazines, and some unknown make of magazines that have given other guns problems, along with 10 different types of rounds.
I alternated between free hand and bench rest shooting, but mostly used free hand from 7, 10, & 15 yards, with some at 25 yards as well. This pistol has a very nice action. It has the standard radius firing pin stop, 17 lb recoil & 23 lb main springs, but this gun recoils straight, level and extremely easy…meaning there's no felt sharpness to it. It did feel a bit choppy to me, again because I think due to the tight fit of the barrel lugs. The recoil really smoothed out when I installed a 14lb spring, the cycling was very easy and was able to get follow up shots faster. But everyone has their own likes in this area.
Even when I put +P ammunition through it, there was no felt torque in the hand, it stayed straight and true, as you'll see in the accompanying pictures.
The pistol grouped well for the shooting session, but shot a tad bit high for me. If I buried the front sight down in the rear notch a bit, it showed to be true point of aim.
Test Ammo
I ran a good mixture of ammo through the pistol, most of which is currently available on the market today. A few are not so available anymore, but I wanted to see how well the gun functioned with some of the more problem feeders of our day, most notably Speer's old tried and true 200gr Lawman aka "The Flying Ashtray", and Cor-Bon's 185gr flatpoint HP.
The other ammo run through it were; Remington's Golden Sabre, Federal's Tactical L.E & HST, American Eagle and Speer ball, as well as their Hydra-Shok, Speer's Gold Dot, Winchesters SXT, and good old Winchester white box ball ammo, or FMJ. All were run through my PACT Mark IV chrono and showed to be within range of the listed catalog ballistics information.
Groups ranged from sub 1" at 10 yards for the HST and Gold Dot, out to 4" for the American Brand FMJ at 15 yards. All of the groups you see on the target photo were shot free hand at a good rate of about 1-2 rounds per second using my shot timer as a guide. The SXT held a very good group of just under 4" at 25 yards, and the Cor-Bon 185 gr. flat point came in at 3" at the same distance. I also did quite a bit of shooting on the move as well, and could easily keep all the rounds within the silhouette.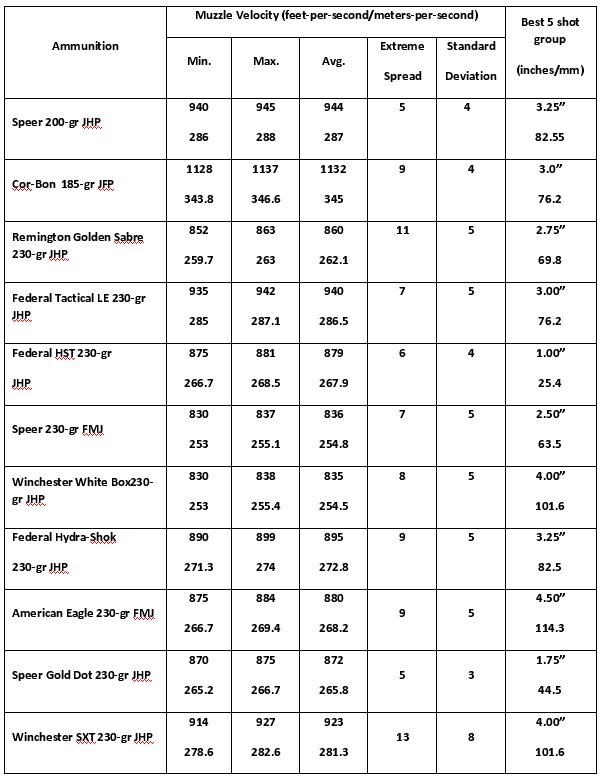 Of all the different rounds and magazines used, I did not have a malfunction of any kind. It ran smooth through the use of all the magazines. It consistently locked the slide back after every last round fired, no matter what magazine I used, as well as chambered every round whether I used the slide stop to chamber the first round, or used the sling shot method.
Final thoughts
This pistol from Matt Davis shows quality throughout. There's obvious attention to the detail of it's building, as well as thoughtful improvements for the shooter. There were no malfunctions during any of the testing and evaluation phases, and the accuracy of this weapon is more than anyone could ask for, what I would easily can call a combat fighting handgun.
Everything on this gun worked right out of the box. It did all things 1911 pistols are supposed to do but, unfortunately, in this day and age often they don't. If all of Matt's pistols are this good in detail and accuracy, then he has done his part in keeping the custom 1911 pistolsmithing alive and well, and has a very good future in front of him.
I have had the chance to review and test many 1911's over the past few years, some for the forum and some for T & E for LE use, and find this pistol from Matt every bit as good as any custom 1911 I've had my hands on, and in some areas better! I would not hesitate to carry this gun on duty; in fact I did for two weeks straight. So it did see some holster time, in a Safariland ALS style duty holster, and the finish held up without so much as a scuff.
At this point I have refused to return the gun until Matt agrees to sell it to me. Until then, I'm off to find my roots in Ireland. So Matt if you want your gun back, you either have to sell it to me or come get it in Ireland! See ya!
Specifications
Matt Davis Custom 1911
Caliber: .45 ACP
Finish: Blued frame and slide
Barrel: 5" barrel with bushing
Overall length: 8.5" (133.35mm)
Weight (empty): 40 ounces (1134 grams)

You may discuss about this pistol, ask questions or in general discuss about this review, in this thread in our Forums Site:
SOURCES
Pistol:
MD Custom Machine
2301 S. 33rd,
Quincy, IL 62301
USA

Tel: 217-222-1944
Email: sara@mdcustommachine.com
Web site: http://www.mdcustommachine.com
Chronograph
Competitive Edge Dynamics USA
P.O. Box 486,
Orefield, PA 18069-0486
USA
Orders: (1) 888-628-3233
Phone: (1) 610-366-9752
Fax: (1) 610-366-9680
Email: info@CEDhk.com
Web site: http://www.CEDhk.com