Milt Sparks Axiom Holster
By Frank Ettin ()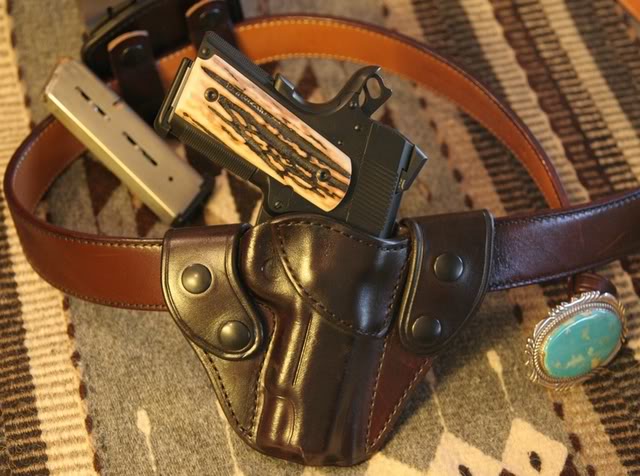 Putting holsters on and taking them off can be a chore. For some folks this may not be a problem, but often one, especially the lawfully armed private citizen, may find it convenient to be able to easily shed his (or her) pistol when going somewhere it's not permitted and to easily restore it when that particular errand is finished. From time to time various holster makers have tried a number of devices, such as paddles or clips, to accomplish this. These things work for some folks and not for others.
In the last few years, a number of holster makers started making holsters that can snap onto one's belt. This struck me as a nice way to answer the need. And I became sufficiently intrigued by the latest such design from Milt Sparks Holsters (http://www.miltsparks.com/). I know from past experience that the artisans at Milt Sparks make a quality product, and the Axiom appeared to have some interesting and desirable features. So I called Milt Sparks and ordered a couple of examples -one for an Officers Model 1911 and one for a Commander size - both in cordovan color.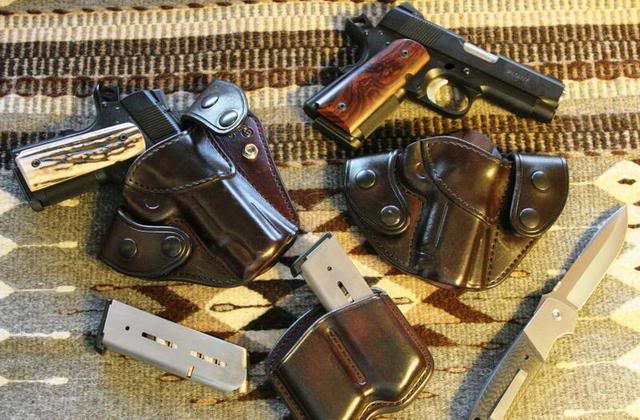 In due course (about 18 weeks) I found a parcel on my front porch. Like most custom holster makers, receiving something from Milt Sparks can take some time. I was quoted 16 to 20 weeks. But considering the quality, the wait is worth it.
The holster design itself is, in my opinion, well thought out and executed. The straps are wide and well spaced. Thus the weight of the gun is well distributed, and the holster fits solidly on the belt. Of course a properly designed, stout belt is needed, just as with any holster. The straps themselves are attached to the holster body with screws, so they may be readily replaced if necessary as the result of wear. They are, however, available only to fit a 1.5 inch belt, although according to the information on the Milt Sparks website, they will still properly stabilize a holster on a 1.25 inch belt.
On each side, the strap fastens with two snaps. This provides welcome additional security.
The photograph below shows the snaps from the front of the holster.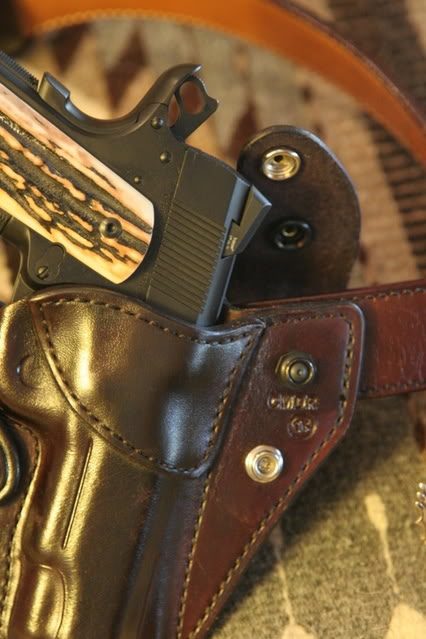 And the photograph below shows a rear view of the holster affixed to belt. Note the broad straps offering solid mounting of the holster to the belt, and note also the screws by which the straps are attached to the holster body.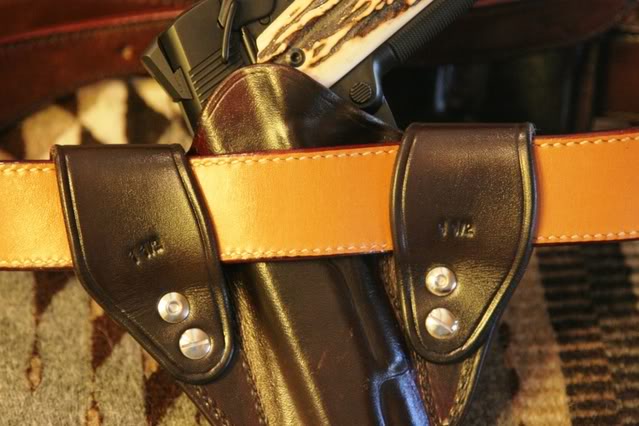 Aside from the snap on feature of the Axiom, it works the way one would expect a well made OWB pancake holster to. It held the pistol in close to the body, and I could obtain a proper full firing grip when drawing my pistol. The mouth of the holster is reinforced to stay open, permitting one handed reholstering.
I wore an Axiom for an extended period on several occasions with my Nighthawk Custom Talon III, and a few other times with my Talon IV. I found that I could comfortably wear those all steel guns in an Axiom all day. The wide straps (on a stout belt) distributed the weight well, and the holster sat very nicely at about the 3:30 position on my (all too ample) waist. And overall the holster offers a broad, flat silhouette snuggling the gun in close, aiding concealment. I'm not sure that I'd say the this holster is quite as concealable as an IWB style, but I was able to easily conceal a Talon IV (Officer size), Talon III (Commander length with an Officer size grip frame) and Talon II (Commander size) under a vest or light jacket.
As is usual with better holsters, these were a tight fit initially. I used the common technique of wrapping the gun in a plastic bag and leaving it in the holster for 24 hours or so. After that and a few dozen presentations with an unloaded gun, they were just right; and it was then time to go to the range.
My Talon II and Talon IV each felt solid and secure in its respective Axiom, but I was able to present the pistol smoothly. All in all I shot about 100 rounds with the Talon IV and 80 rounds with the Talon II, firing quick strings of 2, 3 or 4 shots - from the leather at 10 yards.
Below are a couple of representative targets -- first, 53 rounds of PMC 230 grain FMJ fired with the Talon IV, and second 50 rounds of MagTech 230 grain FMJ fired with the Talon III.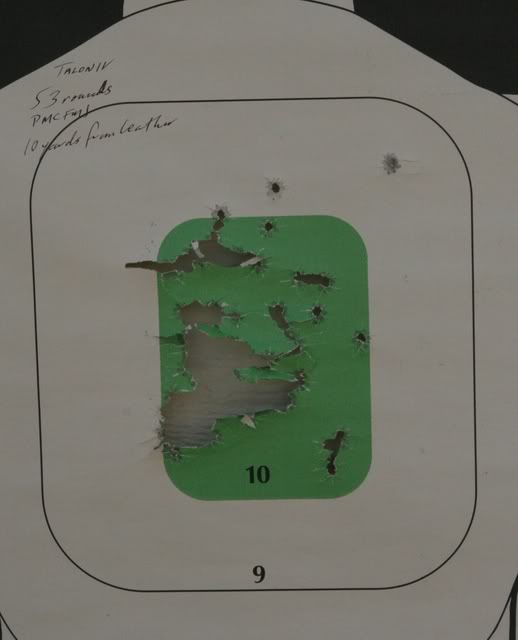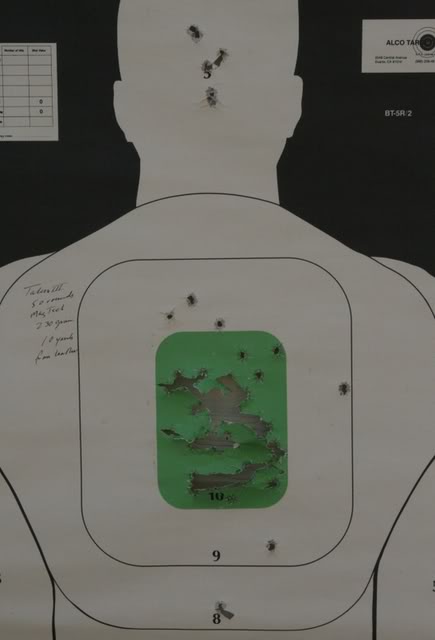 I liked this holster. I must admit that I tend to favor an IWB holster, but I'm sure I'll find occasions to use one of my Axioms. If you're thinking about a snap on type holster, the Axiom from Milt Sparks is worth a look.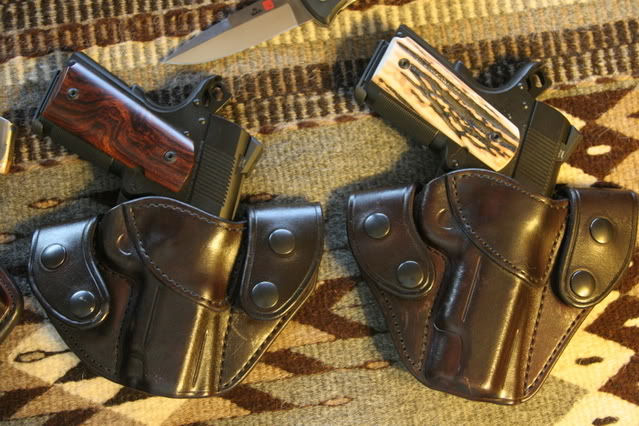 If you want to discuss or comment on this article, please use the following thread in our Forums Site:
http://forum.m1911.org/showthread.php?t=28725


Sources:
Holster
Milt Sparks Holsters Inc.
605 E. 44th Street, #2
Boise, ID 83714
USA
Phone: 208.377.5577
Fax:
E-Mail: holster1@earthlink.net
Web site: http://www.miltsparks.com/


Pistol
Nighthawk Custom
1306 W. Trimble
Berryville, Arkansas 72616
USA
Phone: (Toll Free) 877.268.4867
Fax:
E-Mail: info@nighthawkcustom.com
Web site: http://www.nighthawkcustom.com


Shooting Facilities
Reed's Indoor Range
1100 Duane Avenue
Santa Clara, CA 95054
USA
Tel.: 408-970-9870
Fax.:
Web site: http://www.reedsindoorrange.com/