So What if I Want to Make Small Holes?
a .22lr conversion unit for the 1911 from Marvel Precision
Reviewed by Frank Ettin ()
Sure, there's a lot we like about the .45. It's accurate, a proven fight stopper and fun to shoot - it makes nice big holes. One thing we don't like about it is that shooting a lot of .45 ACP, or other centerfire cartridges, can get expensive.
On the other hand, .22lr is still pretty cheap to shoot. It's also accurate and just plain fun. With a good .22lr pistol you can get a lot of "trigger time" for not much money making it a great way to economically work on your trigger control and sight alignment. And with its light recoil and minimal muzzle flash, a .22 is a great way to introduce a novice to shooting.
And so you'd love to have a .22 pistol; but you already have one or more 1911s, and putting another pistol into the safe may not be conducive to continued harmony around the hearth right now. What to do?
Why not just adapt one of your 1911s to shoot .22s? Not only can your 1911 do double duty, but you can get plenty of economical practice with the ergonomics and trigger of your 1911.
There are a number of devices on the market that will convert your 1911 (or other guns) to shoot .22lr. Marvel Precision in Cortland, Nebraska makes some and were kind enough to loan me some examples. I tried them out, and this is what I found.
The Conversion Unit
The Marvel .22 conversion unit comes nicely packaged in a canvas-looking, zipper case.
The case looks perfect for storing the unit, and would be a handy way to transport the unit and keep everything together. Included are the fully assemble top end, consisting of a slide, barrel, recoil spring and guide rod, one 10 round polymer magazine, a slide stop to attach the top end to your 1911 frame, wrench needed (discussed later), and instructions.
A 10 round metal magazine is also available.
This particular conversion unit (called Unit 2, by Marvel) is dimensionally equivalent to a full size (Government Model - five inch barrel) 1911 top end. On a full size frame (here a Nighthawk Custom GRP), the gun fits nicely into a holster made for a full size (here a Milt Sparks Vera Max 2).
The folks at Marvel were also kind enough to send one of their target versions (called Unit 1 by Marvel).
The target version doesn't have a full slide, but rather sort of a cycling breach assembly much like the Smith & Wesson 41.
Thus the barrel is rigidly attached to the upper part of the top end assembly. So when the unit is mounted on the frame, the sights do not move relative to the barrel during cycling. The fixed top also makes it easier to mount optics.
The target model comes packaged much like its shorter cousin. And with the longer barrel and the sights rigidly oriented in relation to the barrel, it would be better suited for more serious target shooting, so it comes with a test target laminated onto a metal disc. The test target is in the lower left (and the optional metal magazine is shown in the upper right).
It shows a 50 yard, five shot group measuring 0.733 inches.
Marvel also makes a version of a Unit 2 with a Commander size top end and mounting a combat style, adjustable rear sight.
Details
Both conversion units are very nicely made. The slide/upper body of each unit is machined aluminum alloy anodized to an attractive flat black. The barrel, slide stop and extractor are blued carbon steel. A machined, carbon steel breach block is inserted.
Each unit uses an external extractor.
The rear sights on both are fully adjustable, target type sights with a flat rear blade serrated to cut glare.
The barrel is ramped.
The top of the slide on the full size unit has sort of a waffle pattern to cut glare.
The top of the target unit is serrated already drilled and tapped in case someone wants to mount optics.
On the underside of the barrel of the target unit, there's a drilled and tapped hole for attaching an available compensator.
Both units use a full length guide rod.
When mounting the unit on your frame, the shaft of the slide stop passes through the barrel lug, and the guide rod screws down onto the shaft of the slide stop (that's what the supplied wrench is for) to secure the top end to the slide stop. This also assures that the barrel is firmly fixed to the frame for the best accuracy.
Not screwed down.
Screwed down
But It's All About Shooting
All this is well and good, but do these things shoot. They do indeed, quite well I think - with a couple of caveats. But first, let's put one of the units on our 1911 frame so we can get started.
For my shooting tests, I used the frame from my Nighthawk Custom GRP. It's been a good accurate .45 for me and has a nice trigger. I chose a Nighthawk in part because Marvel cautions on its website (under the FAQs):
"We do have many customers that have our Conversion Unit on their Les Bear, but there are times when our Conversion Unit will not work."
So to start, take your 1911, remove any magazine present, open the slide and make sure the gun is unloaded. Now remove the top end in your usual way. Now slip on the Marvel top end (a few drops of oil on the slide rails would probably be a good idea) and lining up the Marvel supplied guide rod to the take down slot, insert it. Finally, pull back the slide just a bit and, using the supplied wrench, screw the guide rod in until snug.
You are now ready to go. Note however that the slide does not lock back on the last round. As Marvel explains, the slide is aluminum, and were the slide designed to lock back on the last round it would substantially increase wear to the slide lock notch.
Another issue is ammunition. I found the units to be finicky.
Marvel advises that the units require high velocity ammunition. In addition, Marvel advises not to use Federal ammunition.
I started out planning to use the following ammunition:
CCI Mini Mags 40 grain round nose
Remington High Velocity .22lr 40 grain solid point
Winchester Super X High Velocity 40 grain Power Point
PMC Zapper copper coated 40 grain solid (my standard .22 practice ammunition since I bought 5,000 rounds a few years ago at a very good price)
During my preliminary familiarization shooting, I found that the PMCs weren't working well at all. I was getting failure to extract with the full size (government) unit using both the polymer and the metal magazine. I was also getting misfeeds with the target model. And I found that the government size unit didn't like the Winchesters out of the polymer magazine. And they work with the metal magazine, but only if I loaded no more than 5 rounds. As a result, I only used the CCI, Remington and Winchester ammunition.
I personally don't find these ammunition glitches troubling. First, .22lr auto-loaders can be finicky. There's just something about trying to feed a rimmed cartridge through a magazine. Second, one would not generally be relying on this set up for self defense. And in any case I did have some ammunition that worked reliably. Maybe with some time and efforts this could all have been sorted out, but I really didn't see a need to. However, anyone using a conversion unit (or any rimfire auto-loader) would probably be wise to do some function testing with a variety of ammunition before laying in a large supply of something in particular.
So I loaded up the buggy and took myself to my nearby range, the Livermore-Pleasanton Rod & Gun Club (http://www.lprg.org).
Once I sorted out the ammunition/magazine issues and figured out what would work with what, I did a fair amount of casual shooting to familiarize myself with the units (that's secret gun writer code for "I had some fun"). As long as I used the right ammunition with the right magazines in the right guns, everything went smoothly. The units functioned reliably, and the bullet holes showed up pretty much where I wanted them to be. And it was a gas burning up a bunch of not too costly ammo.
I then set up my CED chronograph to do some velocity testing.
And this is what I came up with.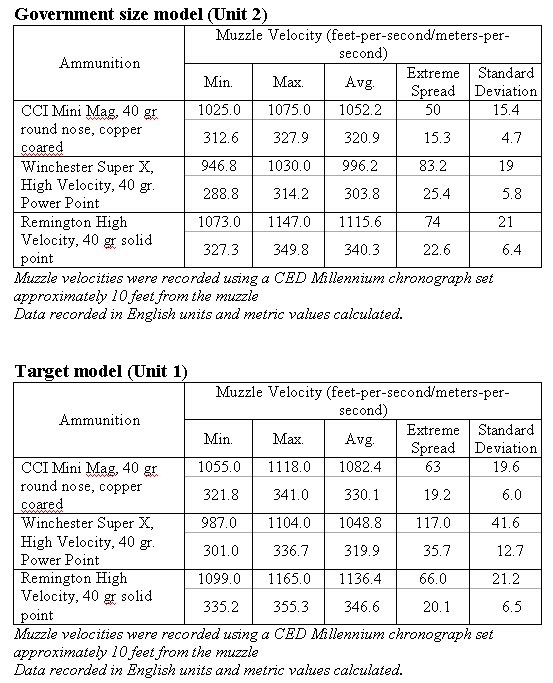 I didn't follow up with the standard accuracy testing. As I was finishing with the chronograph, some serious wind started coming up. So I set up a target at 15 yards and proceeded to shoot 15 round groups off hand. My best target was with the Winchester ammunition and the full size (government) model.
And I was generally pleased with the accuracy.
full size (government) model and Remington ammunition
full size (government) model and CCI ammunition
Target model and Winchester ammunition
Target model and Remington ammunition
Target model and CCI ammunition
This is an admittedly very subjective evaluation. But I'm comfortable opining that both the 5 inch and target models are capable of excellent accuracy. These groups, especially allowing for the shooter induce flyers, reflect good consistency and about what I'd expect to be able to shoot under similar conditions with other good quality .22lr auto-loaders. Indeed, this is the sort of shooting I'm used to doing with my own .22s (including my Ruger Mark II Bull Barrel Target).
Conclusion
This was my first experience with any of the .22 conversion units, and I wasn't sure what to expect. I was very pleased by how these Marvel units worked out and think than without a doubt a conversion unit is an excellent option for anyone with a 1911 who would also like a .22.
As to the units themselves, I was impressed by both how well thought out the designs are and how well they are made. These should give long and good service.
Anyone in the market for a conversion unit would be well advised to give Marvel a very serious look.
Acknowledgements
I'd like to thank the folks at Marvel Precision for the loan of these conversion units.
As always, my Competitive Edge Dynamics Millennium chronograph gave fine service. I really do appreciate the way it calculates all those pesky parameters like standard deviation. I've done it the old fashion way and have no desire to repeat the exercise.
And I thank my friends at Livermore-Pleasanton Rod & Gun Club for the use of their excellent facilities.
You may discuss about this product, ask questions or in general discuss about this review, in this thread in our Forums Site:
http://forum.m1911.org/showthread.php?t=60493
Specifications
Target Model - Unit 1
Barrel - 5.3 inches/13.46 cm
Slide assembly - 7.44 inches/18.90 cm long (at rail) and 1.125 inches/2.86 cm high
Weight - approximately 1 pound
MSRP (base) - $408.00

Full size (government) Model - Unit 1
Barrel - 4.8 inches/12.19 cm
Slide - 7.44 inches/18.90 cm long (at rail) and 1 inch/2.54 cm high
Weight - approximately 1 pound
MSRP (base) - $309.00
Sources:
Conversion Kits

Marvel Precision LLC.
2464 South 54th Road
Suite 2
Firth, NE 68358
USA
Mailing Address
PO Box 127
Cortland, NE 68331
USA
Phone: 402-791-2211
Toll Free: 1-800-295-1987
Fax: 402-791-2246
Web site: http://www.marvelprecision.com
Chronograph
Competitive Edge Dynamics USA
P.O. Box 486,
Orefield, PA 18069-0486
USA
Orders: (1) 888-628-3233
Phone: (1) 610-366-9752
Fax: (1) 610-366-9680
Email: info@CEDhk.com
Web site: http://www.CEDhk.com
Shooting Range
Livermore-Pleasanton Rod & Gun Club
4000 Dagnino Rd.
PO BOX 786
Livermore, California 94551-0786
USA
Trap Range: (925) 449-8780
Rifle/Pistol Range: (925) 449-3616
Web site: http://www.lprg.org