Wilson Combat Bill Wilson Carry Pistol
Reviewed by Steve Shields (Wichaka)


What can be said about Bill Wilson, the company he started, and all he has done for the firearms industry especially the 1911?
From his humble beginnings repairing watches, getting involved in IPSC in the mid 70's, building his own competition guns, to starting his own company, that to this day and forward will leave a mark on the firearms industry. Not to mention his involvement with the IDPA, as well as the expansion into the rifle and shotgun side of things. Whew! That's quite an accomplishment. It didn't happen overnight, but the effects will be long lasting. And ya know, after all this…he still looks normal!
I remember when I first started wrenching on 1911's back in the 80's, and was given the "Combat Auto" book, authored by Wilson. A lot of what is attached to the binding of that book still holds true today. Many of the custom and combat modifications are now household words in the 1911 industry.
Ok, enough about the man and all his accomplishments, sorry Bill gotta move on with the article.
Of the many models of 1911's that have passed through his hands, as well as the many his company has produced and offered to the public over the years, one has to wonder…what would Bill choose to carry on a daily basis?
Well wonder no more, Bill now offers to the public the same pistol he carries everyday. Enter the Bill Wilson Carry Pistol. Nicely handcrafted in the Wilson tradition, but not over done.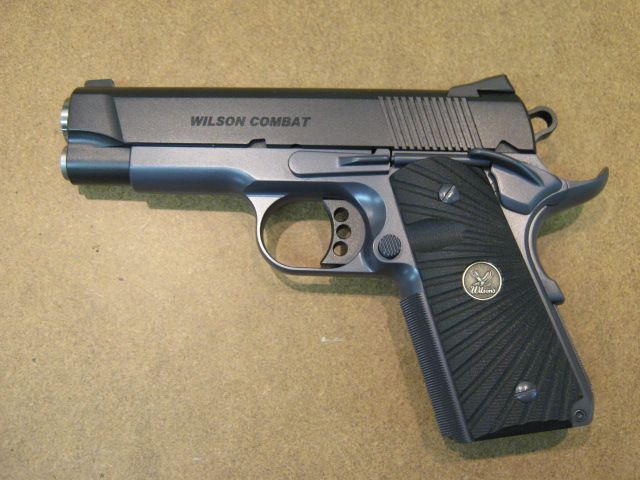 Up close and personal
From the Armor-Tuff black colored slide and gray colored frame finish, the machine checkering and serrations, the slight bob tail, or in Wilson Combat terms 'Round Butt', High Power style cut on the slide's fore end, undercut trigger guard, to the fine fit and finish we've all come to know about Wilson pistols, this one has it all and you will not be disappointed!
Wilson's own rear sight, and monogram;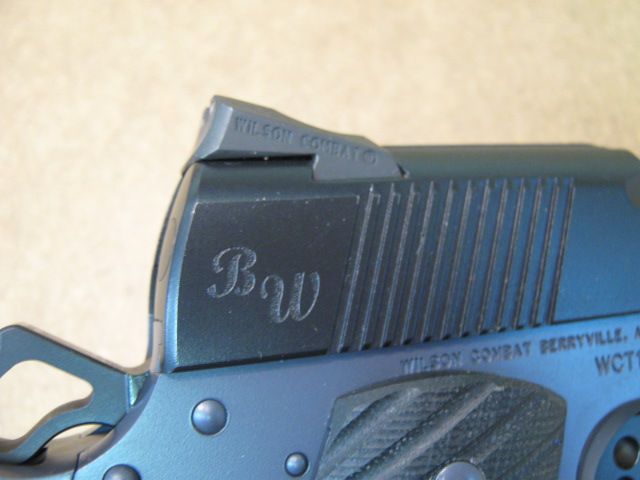 Slight bevel to the bottom edge of the slide;
Tight slide to frame fit, and smooth back of slide;
High-Power treatment to the fore-end of the slide;
Cone style bull barrel, no bushing here. Also note the slight bevel of the edges, for smooth carry;
Front sight blended into the slide;
Top of slide serrations;
Under cut of trigger guard, extended magazine release, and shelf style slide stop;
Machine cut front strap checkering;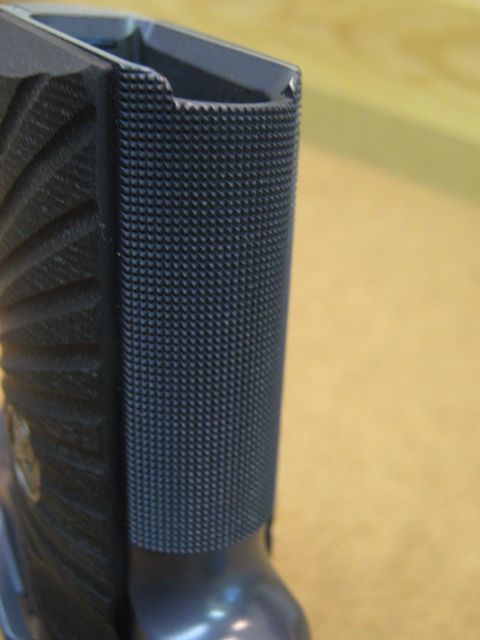 Magazine well bevel;
Slight bobtail;
Has all the discussion about the original designed firing pin stop on our beloved forum paid off?
Take down is not too complicated, no tools or pins to get lost, just a little muscle is involved.
With one hand, hold the slide back until the take down notch aligns with the slide stop to be removed, remove the slide stop, and then ease the slide forward off the gun. Just make sure to support the recoil spring as it becomes visible or it may get launched somewhere not of your choosing!
Extras
Packaged with the pistol is a good functional mini range bag. Large enough for a full sized pistol, 7 magazines, hearing protection, and a few range extras.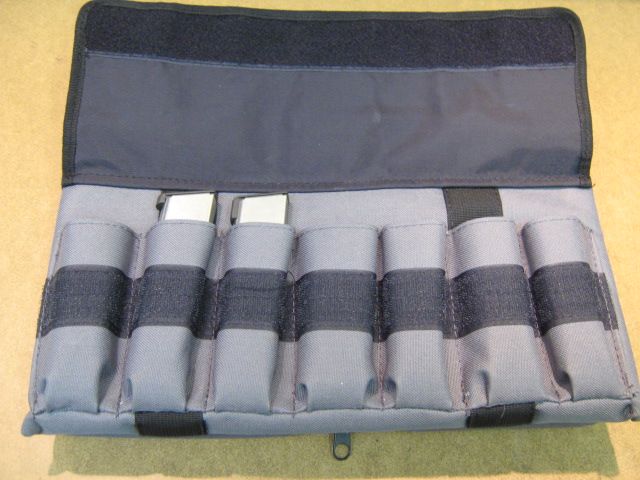 The literature that accompanies the pistol is a bit, but well worth the time to go through and read. There is special information about the pistol you are receiving from Wilson Combat, maintenance manual, and various firearm offers from companies and organizations.
How it shoots
I put 700+ rounds through the pistol during 3 different shooting sessions. Besides using the 2 magazines supplied with the gun, a #47OX 7 rd and #47DOX 8 rd which of course are Wilson made, I also used some stock Colt, Metalform 7- & 10-rounders, Metalform 7-rounders with the Wolff spring update, Metalform magazine bodies with Wilson's 8 round conversions, and some unknown make of magazines that have given other guns problems, along with 10 different types of rounds.
All 3 sessions were shot from CQB contact distance, as well as 3, 5, 7, 10, 15 and out to 20 yards. This pistol has one of the sweetest recoil actions I have ever felt in a short-barreled 45. As noted above it has the original design small radius firing pin stop, 20 lb recoil & 19 lb main springs, but this gun recoils straight, level and extremely easy ... meaning there's no felt sharpness to it. Even when I put +P ammunition through it, there was no felt torque in the hand, it stayed straight and true.
I ran a good mixture of ammo through the pistol, most of which is currently available on the market today. A few are not so available anymore, but I wanted to see how well the gun functioned with some of the more problem feeders of our day, most notably Speer's old tried and true 200gr Lawman aka "The Flying Ashtray", and Cor-Bon's 185gr flat point HP. I put 50 rounds of each through the pistol, and 'nary a hesitation.
The other ammunition run through it was; Remington's Golden Saber, Federals Tactical L.E. and HST, American Eagle ball, as well as their Hydra-Shok. Speer's Gold Dot, Winchesters SXT, and good old Winchester's white box ball ammo, or FMJ.
Through the 700+ mixture of rounds above, I never had one malfunction, or even a hesitation.
In reading through the instruction manual that accompanies all Wilson Combat Pistols, there's a section about ammunition, that which is recommended and some to avoid. Although I didn't test everything in this pistol that was recommended or to stay away from, I was able to cover most on both lists and again never had a problem.
All rounds were fired from 20 yards, using a 2-hand hold on a bench rest, and were run through my PACT Mark IV chrono for testing.
Final Thoughts
This gun lives up to the true tradition of Wilson Combat firearms.
I was able to carry this gun concealed for duty and off duty use. Although it's a bit heavier than my alloy framed Commander, it still carried well in my Davis Liberty, and a Milt Sparks Summer Special II holsters.
The only change to the gun that I feel would be beneficial is to make the rear sight with a wider notch. I have wide notch rear sights on all my duty guns, and can pick up the front sight much faster. But then again, this gun is made for up close and personal type situations, where one may not have the time to get that 'perfect' sight picture.
Although this gun is not made for precision long range shooting, I was able to make surgical head shots at 20 yards all day long. Which is the ongoing testament of the continued care to detail that Wilson Combat puts into each and every one of their pistols.
At the suggested retail price of $2,850, its not made for everyone's pocketbook. But what price do you put on something that may be called to save your life, or that of a loved one?
I had a pistol worked over from the boys at Berryville back in the early 90's, and its still hasn't had so much as a hesitation either. The faces around the business may have changed over the years, but the dedication to quality has not.
The Bill Wilson Carry Pistol would not only make an excellent sidearm for any civilian, but would also make an extremely excellent choice for any Law Enforcement Officer as well.
You may discuss about this pistol, in our Forums site, in this thread :
http://forum.m1911.org/showthread.php?t=75921
Specifications
General
Bill Wilson Carry Pistol
Caliber 45
Magazine Capacity 7 rd.
Barrel Length 4"
Overall Length 7.6"
Sight Radius 5.6"
Height 4.9"
Width 1.3"
Weight Empty 35 oz.
Weight Loaded 38.5 oz.
Frame Assembly
Hammer: #337B Ultralight
Grip Safety: #298B High Ride Beavertail
Ejector: #34 Extended
Thumb Safety: #6BN Extended Tactical
Trigger: #190 Ultralight Crisp 3 1/2#-3 3/4# pull
Magazine Well: Handfit and Contoured
Feed Ramp: Polish & Bbl. Throated
Magazine Release: #31T Extended Tactical
Checkering: Frontstrap - High Cut 30LPI, Flat Main Spring Housing - 30LPI
Grips: #351 Series, G10 Starburst
Slide Assembly
Sights: #463 Tactical Combat Pyramid
Extractor: Polish and adjust Bulletproof
Ejection Port: Lower and Flare Back
Springs: #26 Firing Pin, #22 Recoil, #18 Main
Barrel: Heavy Tapered – Hand Fit
Fitting: Custom fit Slide/Frame Rails
Serrations: Cocking Serrations on Rear of Slide
Finish & Extras
Carry Cuts
Countersink Slide Stop
Round Butt
Serrated Slide Top
De-Horn For Carry
Armor-Tuff Finish
2 - #47OX 7 rd Magazines
Instructional Video & Color Manual
#146 Nylon Pistol Rug
Test Fire & Zero
Sources:
Pistol:
Wilson Combat® & Scattergun Technologies™
2234 CR 719
Berryville, AR 72616
USA
Order Toll Free: 1-800-955-4856
Technical Questions: 1-870-545-3635
Fax: 1-870-545-3310
Email:
info@wilsoncombat.com
Web site:
http://www.wilsoncombat.com